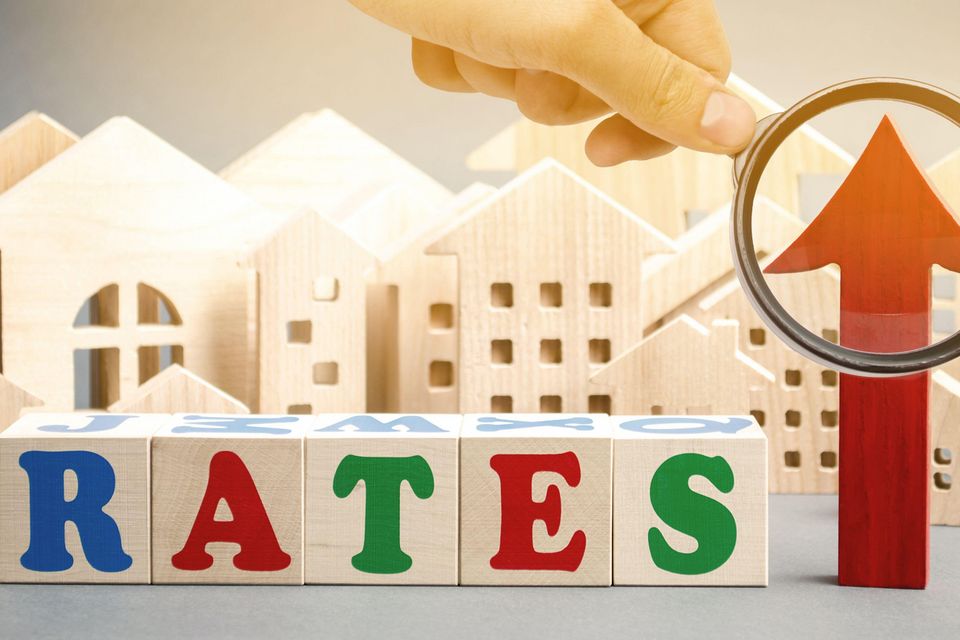 Borrowers have been warned to brace themselves for a ninth rise in European Central Bank (ECB) rates.
The latest imminent hike means 400,000 mortgage borrowers are exposed to a "ticking time bomb" of higher rates over the next two years.
These are people on tracker rates, variables and those coming to the end of fixed rates.
This year alone, more than 60,000 homeowners are due to come to the end of a fixed rate, which will put a massive squeeze on their finances.
The ECB is expected to announce another 0.25 percentage points rise in its key rates next week.
The move will mean some people coming off a fixed rate could end up paying an extra €3,500 over a year to lock in to a new one after a succession of increases in the cost of new fixed rates in the last year.
Analysts are expecting another 0.25 points rise in September, at which point they expect ECB rates to peak, according to a survey of economists across Europe carried out by the news wire service Bloomberg.
Mortgage broker Michael Dowling, of Dowling Financial in Dublin, said around 60,000 mortgage holders would be coming to the end of fixed rates this year.
He said fixed rates had risen by between two percentage points and 2.5 points since they last fixed.
This means a family on a €300,000 mortgage will typically be coming off a 2.75pc fixed rate.
Now they will be faced with fixed rates of 4.5pc.
These consumers will face almost €300 a month in higher repayments, which works out at more than €3,500 over a year, he said.
About 120,000 mortgage accounts are on tracker rates, according to Mark Coan of money guide MoneySherpa.ie. These borrowers will be automatically hit with higher lending rates.
Around 164,000 are on variable rates, with many of these unable to opt for a fixed rate because their mortgage was sold to a vulture fund, and past arrears issues have turned them into mortgage prisoners.
Mr Coan said that, according to the latest Central Bank financial stability note published in April, 64,093 residential fixed rates would rise this year, and 71,214 next year.
This means 135,307 in total potentially rolling on to variable rates in the next two years.
The same report puts the combined number of variable mortgages, including trackers, at 284,858.
That means 420,165 mortgages are exposed to interest rate increases over the next two years, when those on variable, tracker and those coming off a fixed rate are added together.
"There is a time bomb ticking under the Irish mortgage market with 420,000 mortgages due to be hit with rates north of 4.5pc," Mr Coan said.
"By the time households cotton on to the hikes, it's likely the current low fixed-rate options will have been withdrawn from the market."
He said most people did not realise they could switch to a longer-term fixed rate now without a breakage fee.
"If you are on a short-term fixed rate, variable rate or tracker rate, you should talk to a broker as soon as possible to get market-based advice on your switching options."
Start Mortgages recently wrote to thousands of its customers to tell them their mortgage rates would rise by 0.75 of a percentage point this month.
Last month, 9,500 mortgage prisoners, whose loans are serviced by Pepper Finance, were told they are due to get letters this month telling them rates are rising by up to one percentage point.
Credit union mortgage rates are the only ones that have not gone up in the last year.
This is because credit union lending rates are not dictated to by the ECB rate. Instead, loans from the credit unions are funded from member savings.
The key ECB refinancing rate is 4pc, but is expected to go to 4.25pc when the ECB governing council meets on Thursday week.
Daragh Cassidy, of price comparison and brokerage Bonkers.ie, said the ECB was likely to hike its main lending rate, off which trackers and variable rates are priced, to 4.25pc when it meets next week.
He said there was a good chance that the key ECB refinancing rate could hit 4.50pc in September.
"This means the average tracker ­customer could soon be paying a rate of around 5.6pc or 5.7pc while the best rate available to prospective first-time buyers will likely be over 5pc by the end of the year," he said.
Source: Charlie Weston, Irish Independent 18/07/2023